Published: 5th July 2021
Acoustic Vehicle Alerting Systems Legislation for Electric Vehicles
Acoustic Vehicle Alerting Systems (AVAS) are designed to alert vulnerable road users in the 'hazard zone' about an approaching vehicle.
With the rising increase in popularity of electric commercial vehicles, both vans and HGVs, the concern around the lack of vehicle engine noise and the resulting effects on pedestrian safety have been a key focus for a lot of fleet managers.
The use of Acoustic Vehicle Alerting Systems is becoming more commonplace. In fact, legislation is now in place, so that all new hybrid and electric vehicles to be sold in Europe will need an acoustic vehicle alerting system to emit sound when travelling at low speeds.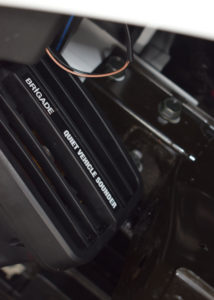 These systems replicate the sound of a combustion engine from start up to around 20mph, where normal wind and road noise generate enough sound that they can be heard, and the AVAS switches off.
Similarly, most reversing tends to take place at low speeds, so the lack of engine noise is again a concern. Quiet vehicle sounders also need activate when reversing, unless a reverse alarm has been installed, such as our 'White Noise' sounders.
If you're considering adding electric vehicles to your fleet, speak with the SM UK about the AVAS options available