Published: 14th May 2021
Tuffnells: "Safety is paramount for us"
SM UK, a Leeds-based auto-engineering business, has won a £500,000 contract to upgrade parcel delivery firm Tuffnells' fleet of 230 new vehicles by installing state-of-the-art safety equipment.
SM UK, which recently announced it will open a £4m, 35,000 sq ft Leeds headquarters and northern workshop this summer, along with a drive to recruit 30 new engineering and office staff, began the work for Tuffnells in March.
Its contract involves fitting safety systems designed to protect cyclists and other road users and help prevent accidents.
The installation involves mobile digital recorders fitted to capture footage from 360-degree cameras and monitors; cycle sensors installed down vehicles' near-sides and alarms to alert drivers of any obstruction, while cyclists and pedestrians are warned when a vehicle is about to make a left turn.
The high-tech equipment also includes a white-noise alarm activated when a vehicle reverses, and work lamps to provide additional lighting for people working around a vehicle at night.
Steve MacDonald, SM UK's founder and managing director, said: "Tuffnells are a leader in the vehicle safety arena and they have adopted a no-expense-spared approach to ensuring their vehicles are equipped, pre-registration, with the full range of safety enhancements that we are installing for them now and over the coming months.
"Although the first Tuffnells vans and HGVs equipped with the new kit are only just starting to hit the roads, the new safety system will enable their drivers to easily negotiate narrow streets and ensure they have the technology to deliver their parcels safely and efficiently."
Sheffield-based Tuffnells specialises in delivering large, long and heavy parcels and has a network of 33 UK depots.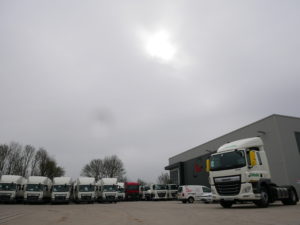 "Safety is paramount for us"
The firm's fleet and services director, Simon Parsons, said: "We see this process with SM UK as future-proofing our vehicles and creating a stress-free environment for our drivers so that they can carry out their roles in safety and comfort.
"Safety is paramount for us and the bottom line is that it's also fundamental to our success and continued growth as a logistics business."
SM UK, whose clients range from blue-chip companies with large fleets of HGVs, to individuals with a single van, currently employs 70 staff across its sites in Leeds and Tamworth.