Published: 16th October 2019
SM UK's Type Approval Certification is great news for customers
What is Type Approval?
Type Approval refers to a range of regulations in place to ensure quality, safety and reliability of products and installations. The Type Approval Authority, run by the official Government body The Vehicle Certification Agency (VCA), operate the Vehicle Type Approval scheme Europe-wide.
For vehicles going through multi-stage builds, Type Approval is needed for each stage of the build, without it, your vehicle may not be authorised for the road.
An example of the multiple stage build
Stage 1: Manufacturer – such as Scania or MAN, who build a tractor unit
Stage 2: Bodybuilder – companies who tailor the vehicle for specific use, such as Curtainside, Tipper etc.
Stage 3: Post Manufacturer Installations – specialists such as SM UK who install safety systems for fleets
What does Type Approval Certification mean for you?
When you bring any vehicle to SM UK for your safety equipment installation, we are able to approve the works for you, stating the vehicle meets all relevant standards following the installation.
Ultimately, using an approved installer such as SM UK  will save you time, money and effort when it comes to adding our safety systems onto your fleet vehicles.
Saving you time – Working with a Type Approved installer means you will avoid unnecessary vehicle downtime. As SM UK can carry out our installations pre-registration, you can bypass buying and registering a vehicle, only then to have to take it to a workshop for it's safety equipment to be installed.  You will receive your vehicle with all equipment installed, approved and ready for the road.
Saving you money – Working on vehicles pre-registration saves the dealer and end user money.
Dealers can hold off on paying manufacturers as soon as the vehicle is registered, as well as the storage charges involved whilst waiting for the camera systems etc. to be installed.
End Users can avoid paying up front for vehicles, as well as the tax and insurance on a vehicle that isn't yet ready for the road, helping you to save money that would otherwise be wasted, and manage your cash flow much easier.
When adding several vehicles to your fleet, working with Type Approved installers is a much more cost effective than taking each vehicle down the Individual Vehicle Approval route.
Saving you effort – SM UK can help you avoid the drawn-out process of collecting your new vehicle from your dealer, taking it somewhere else to have its safety equipment installed, then collecting once installed. Our type approved installations mean that you can specify exactly what you need with the dealer, and receive your vehicle which is ready to go from day one!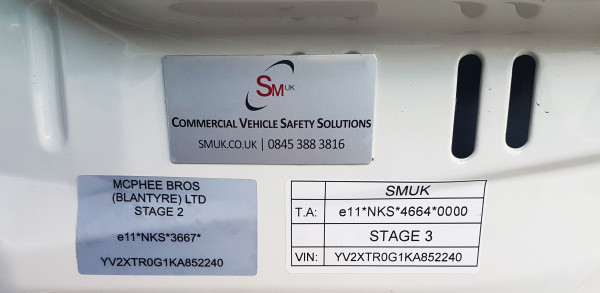 We have worked closely with the VCA to gain the Conformity of Production approval. Even the equipment we install from Brigade Electronics is also Type Approved, giving you peace of mind throughout the whole process.
This wouldn't have happened without the hard work and attention to detail put in by our experienced technical & installations teams, so you know your fleet is in safe hands when using SM UK for all your vehicle safety needs.