Published: 1st June 2020
SM UK's new Midlands workshop is now open for business
SM UK has expanded with a £3 million investment in a new 13,000 sq ft vehicle conversion workshop in the Midlands. The facility is our second, and launches this month, a year after the business opened its first vehicle conversion centre in Leeds.
Located in Tamworth, close to the M42 motorway network, the new centre, which opens this month, will enable SM UK clients in the region to undergo vehicle safety and CCTV system installations with rapid turnaround times.
An initial workforce of 10 is set to grow quickly, with a raft of new hires and an apprenticeship programme planned for the coming months. The new facility will provide bespoke fit-out and conversion services for SM UK's customers, ranging from blue-chip commercial vehicle manufacturers and distributors to professional tradespeople with a single van.
As well as fitting the our own award-winning HALO cyclist awareness system, the new workshop will be used to install other safety kits, as well as commercial vehicle CCTV and modern internal racking systems that are designed to make on-board tool and equipment storage safer and more efficient.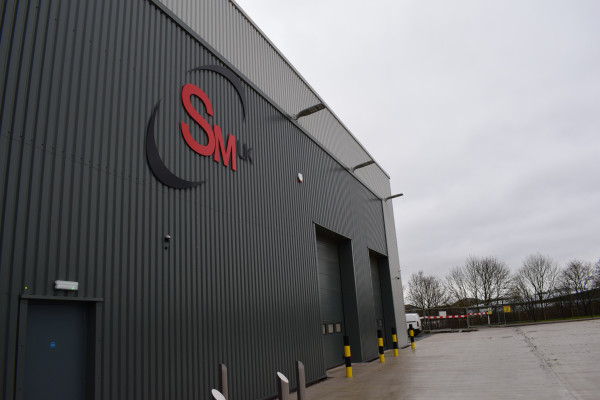 SM UK managing director Steve MacDonald said: "Our northern conversion centre in Leeds has proved a huge success in the year since it launched, enabling us to collect and work on customers' vehicles in a professional and modern environment without taking up time and space at their own premises.
"We're opening the new Midlands centre on the same model as our Leeds workshop.
Initially, it will be a great resource for our many existing Midlands-based customers, including Mercedes, Volvo and DAF. We are extremely well located for the Leicester, Birmingham and Northampton areas, and we hope to attract new clients in the region as we grow."
He added: "Our team have worked hard to ensure the new centre is fully kitted out in time for our new year launch and we will be more than ready for the new 2020-registration vehicles in March."
Featuring state-of-the-art engineering facilities, SM UK's new Tamworth operation centre will have the capacity to house up to 24 large trucks. The firm's full range of installation services will be available on-site, including its HALO cycle awareness system, CCTV, ultrasonic detection systems and van conversions.