Published: 3rd September 2021
SM UK supporting Wolseley's growth throughout 2021
Leading building, heating and plumbing supplies distributor Wolseley, which has planned for further growth throughout 2021 with continued investment in its fleet of new vehicles, has re-awarded SM UK the contract to supply and install vehicle safety systems.
Commercial vehicle safety specialist SM UK, which has worked with Wolseley for 15 years, is fitting the latest in its range of cameras and sensors, to give drivers better visibility of their blind spots. The high-tech systems help prevent any potential collisions with vulnerable road users such as cyclists and pedestrians.
Wolseley, which has more than 600 vehicles across its branch network, prides itself on safety. The firm's investment into SM UK's systems will also ensure it meets London's new Direct Vision Standard, which has been introduced within the last year.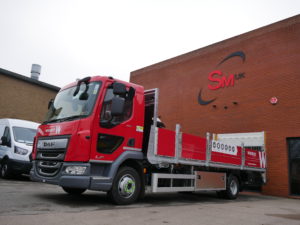 Ryan Coles, operations manager (transport) at Wolseley said: "The systems that SM UK have installed have been invaluable to our drivers and transport teams. From manoeuvring around tight spots and obstacles, to delivering to busy work sites, our drivers have much greater visibility around their vehicles. Our latest specification also gives us the ability to view footage remotely from all cameras, so we can protect our drivers in the event of any incidents, swiftly and without ambiguity."
"The safety of our drivers and other road users is paramount and working with SM UK has given us greater confidence that our fleet is operating as safely as possible on the roads."
Steve MacDonald, managing director of SM UK, said: "It is clear that Wolseley take great pride in their fleet, and SM UK are happy to help the transport team achieve their goals by providing the latest technology for their vehicles.
"As legislation such as Direct Vision Standard comes into place, it's great to see fleets such as Wolseley's going above and beyond, and leading the way when it comes to vehicle safety."