Published: 26th July 2022
Lock it or Lose it!
In addition to running a mobile business, vans can provide a vital storage space and although it's advisable not to keep expensive equipment overnight in the van, some van users have no option… So how do you stop your van side from being peeled back and robbed or keep your £3000 compressor from being lifted?
There are actually lots of options from the simple security box or alarm systems to a host of storage and racking solutions, all of which offer something in the way of 'peace of mind'.
Here are some of the lock solutions we fit at SMUK:
A deadlock is an additional lock fitted to your van door that is separate from the existing lock. The deadlock provides another layer of security, many people favour this lock style due to its inability to be picked or bypassed as there is no spring mechanism exposed.
Slamlocks are a unique locking solution, there is no need for a key when locking as the lock works automatically when closing the van door, no user operation is required. This specific lock works by integrating the mechanism with your existing lock and is therefore one of our most popular options.
The Armaplate fundamentally isn't a locking device, although it can beef up your current lock security. It acts as an additional layer that encases the exposed lock barrel or handle and the surrounding area. It is permanently fixed to your van and once installation, provides immediate protection, even if your van has had a previous break-in.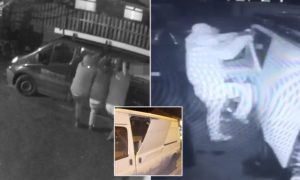 The Hook Lock is installed at the top of the van and is put in as an addition to any current lock or locks, it is specifically designed to protect your van against a 'peel and steal', it is often a visual aid for thieves and is a popular choice in keeping your storage safe.
Pro plates are similar to the Armplate in the fact that they aren't exactly a lock, it sits externally to the current lock and is less noticeable. This type of lock is commonly used to protect from spiking through the van door to access the actual lock mechanism, Just like the Armaplate, once it is fitted there is no need to do anything else, it will work constantly to protect your van.
For further details or to discuss any of these options email: enquiries@smukfleet.co.uk or call 0845 388 3816