Published: 8th June 2017
SM UK Launch Their Halo® Cycle Minder System
Leeds Rhinos help local business put cyclist safety first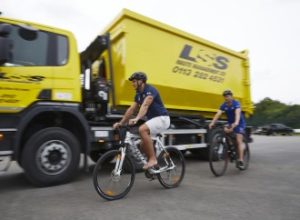 Leeds Rhinos' captain, Danny McGuire and teammate, Ryan Hall swapped their studs for saddles today as they helped two Leeds businesses introduce a new cycle safety system to the city's streets.
Waste solutions provider, LSS Waste Management, has fitted SM UK's Halo system on its two biggest trucks – and keen cyclists, McGuire and Hall were only too happy to get on their bikes to help demonstrate the safety of the 360-degree view system.
Danny McGuire, Leeds Rhinos' captain said: "We take safety very seriously in everything we do, and we're delighted to be helping one of our major partners as they work with SM UK to help make Leeds' streets safer for cyclists."
The SM UK Halo system LSS Waste has fitted to its eight-wheeler, roll-on, roll-off trucks comprises four ultrasonic sensors mounted to the vehicle's near side, which are activated when a bicycle enters their detection zone; an audible and visual "vehicle turning left" warning that operates when the near side indicators are in use; and blind spot cameras and an in-cab monitor that provides the driver with full, 360-degree view.
Nigel Woolford, LSS Waste's managing director, said: "Yorkshire is the cycling capital of the UK, a fact you can't argue with when you see the sheer number of bicycles on the streets and the amount of money being spent on cycle lanes throughout the county."
"Unfortunately, this increase in bicycles has seen a surge in the number accidents involving bikes and HGVs, and in a great number of cases these occur when cyclists are riding in a driver's near side blind spot. Halo completely eradicates this problem by alerting both cyclists and drivers of the potential danger."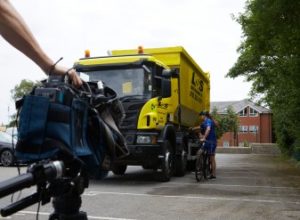 Steve MacDonald, SM UK's managing director, said: "According to ROSPA's most recent annual figures, over 21,000 cyclists were injured in reported road accidents in 2014, with over 3,500 being either killed or seriously injured – and around 75 per cent of these serious or fatal accidents occurred in urban areas."
"What these figures equate to is a major safety issue for cyclists riding in urban areas at a time when huge efforts are being made to encourage people to cycle in towns and cities. Adoption of our Halo system by HGV operators will reverse this worrying problem and make urban roads safer for cyclists."
Nigel Woolford added: "Our drivers have only been using Halo for a couple of weeks and the feedback they've given me has been fantastic. They say the knowledge that they can see everything going on round them makes them feel more secure behind the wheel than ever before; a feeling that has certainly been mirrored by the cyclists I've told about the system. Halo really will make a big difference to cyclist safety on our roads."
For further information on SM UK visit www.smuk.co.uk or call 0845 388 3816