Published: 19th November 2020
4G Camera Systems Improving Fleet Efficiency
Advances in vehicle safety systems have been reducing accidents, improving driver welfare and saving lives. Now, with the development of the mobile network and advances in camera safety systems, it is possible to have a vehicle's safety system upgraded to a 4G live-view system.
Saving you time
4G gives fleet managers live, remote access to vehicle cameras at any time of day. Data can be downloaded at any time, allowing you to play back footage should a vehicle have been in an incident.Normally, a vehicle would have to come back to base with the hard drive, which is then removed and footage downloaded. Quite a lengthy process, especially if the vehicle is the other side of the country!
Data can even be downloaded hands free.
Schedule the data to be downloaded on certain days and times without the need for the vehicles returning to you.
Automate your data downloads and receive notifications after triggered events. These could be related to geo-fencing, speeding, G-force (harsh braking or accidents), HDD errors or loss of video.
Data can also be downloaded manually whenever you need, giving you access to historical footage from the Mobile Digital Recording (MDR) right to your local storage.
Improving Fleet Efficiency
Upgrading camera systems to 4G unlocks a host of valuable tools for fleet managers.
4G software means you are able to track your fleet at all times, allowing you to effectively manage costs such as fuel, speeding fines or unwanted breaks.
Vehicle tracking can also help improve your customer satisfaction, giving your customers up-to-date information on the location of their driver, estimated arrival times or any possible delays, and ultimately leading to a more efficient business.
The Geo-fencing tools that come with the Brigade systems we install daily, have been helping enhance fleet efficiency up and down the country.
Providing invaluable information for job management, geo-fencing means you will know when drivers have arrived or left locations, allowing you to manage job times, drive times, future jobs, even driver wages and overtime, with ease.
Geo-fencing can even be used to notify you when drivers are using prohibited routes, such as bridges with weight limits.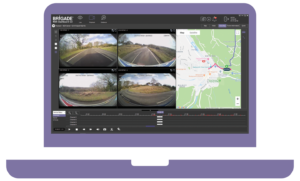 Driver Welfare
It's an unfortunate fact that fleet managers have to deal with bogus insurance claims against their vehicles and drivers.
With camera safety systems installed on your fleet, you will have irrefutable evidence.
Upgrading the system to 4G gives you that evidence instantaneously.
Notifications of triggered events such as G-force may indicate sharp braking or an accident, allowing you to jump on the situation right away and take appropriate action.
Bogus insurance claims can be costly and a time intensive process, whether they are successful or not. A 4G system will allow you to return to the day-to-day of your business much sooner, avoiding unnecessary costs and making money again.
If an accident occurs, you will receive a notification, allowing you to remotely access the data, in some instances before emergency services have arrived.
You will be able to check the footage for the speed and positioning of the vehicle, giving you the information you need to identify the cause of the accident. Footage that shows your driver is not at fault allows you to reassure your drivers that they are not culpable, which can be a massive help at stressful times like those.
Instant access can be invaluable in the instances where police may seize the Mobile Digital Recording (MDR), and without it, the company and driver would have to wait until the hard drive footage could be retrieved and the details of the incident could be confirmed.
Saving You Money
Unnecessary costs are a challenge faced by many fleets of vehicles. This may be down to damage to your cargo, or even the vehicle itself.
Access to live footage of your vehicles can give you an insight into how these costs can be avoided.
Areas for improvement may be product packaging, product handling or even driver training. By focusing on these areas, your business will be able to reduce and remove these costs, improving customer satisfaction and increasing profitability.